Jaipur is the very nice, attractive place and city of  Rajasthan. Jaipur is popular and known as a pink city. It has very well heritage value. Rajasthan govt has spent lot of time and money on Jaipur to make it modern continuously. So if you are planning to visit Jaipur in summer days with family so visit here right now. Here i am going to provide you all about 2 water parks of Jaipur first is Fun Gaon water park and second is Pink Pearl water park. Both parks are located in Jaipur.
Daily lots of people visit here to see the beauty of water parks because this is good option to enjoy good movement with family and other partners.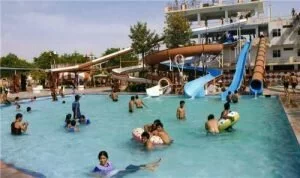 Fun Gaon Water Park is located in Area near Jamwa Ramgarh Dam, Ramgarh Road, Vishanpura. In the Fun Gaon Water Park, all rides and water Rides is also available for everyone. In fun gaon water park a restaurant and stay room is also available.
Contact No of Fun Gaon, Jaipur: – 9950669977
Fun Gaon, Jaipur Timing: – From 09:30 am to 06: 30 pm.
Fun Gaon, Jaipur Costumes Rate: Rs. 50/- per costume.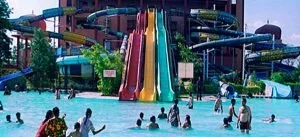 Pink Pearl Fun City Water Park
Pink Pearl Fun City Water Park is situated at Ajmer Express Highway Road, Jaipur. This is the best option to enjoy with family in Jaipur. The main attraction of this park is Beach Side View and many other waters rides. Pink Pearl Fun City Water Park is fully comfortable for all age people.
Pink Pearl Fun City Water Park Ticket Rate:-
Rs. 400/- (Mon to Fri)
Rs. 500/- (Sat- Sun)
Entry timing: 10:00 am- 06:30 pm.
Address–
10th Mile, Ajmer Express Highway
Jaipur, Rajasthan 302026
Pink Pearl Fun City Contact No– 9314512034/9314823132/ 8857691555/ 01415167000
Pink Pearl Fun City Official Website– www.pinkpearl.co.in