Lucknow city is the capital of state Uttar Pradesh has very historical and beautiful tourist place to visit. After the long time, if you are planning for a summer vocation in Lucknow with family etc. Lucknow has very beautiful and historical place for all age people. Here in this site, we present you about Anandi Water Park Lucknow. This park is the best option to spend good time with family and friends in summer days. Here you can enjoy your summer vocations in Anandi Water Park Lucknow with partners. The water park has designed and managed by Anandi Water Park Lucknow special person as owner, general manager etc.
Anandi Water Park team provides lot of facilities to its visitors as cafe, restaurants, rest room etc. Here on this article, we have shared all information related to Anandi Water Park Lucknow like Anandi amusement park lucknow ticket fee/ rate,  Anandi amusement park lucknow entry timing, Anandi amusement park lucknow entry fees for children, Anandi amusement park lucknow contact no. etc.
In Anandi Water available 20 Rides for visitors as Rain Dance, Waves and others. Water Rides are main attraction at Anandi Water. Anandi Water Park is situated at Faizabad Road ( Beside Indra Canal), Lucknow. It is known as the well park in Lucknow. You can book this water park easily for meeting, party easily with very low and medium rate. The Water Park staff are always ready to serve you good facilities easily.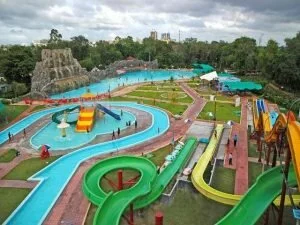 Anandi Water Park Helpline No: – 0522-3206719
Anandi Water Park Customer Care No: – 9415008377, 7755866866, 9235530019, 7851006719
Anandi Water Park Email id– [email protected]
Anandi Water Park Enquiry Email id– [email protected]
Entry Charges Rate/ Details-
For Adult Rs. 700 (Monday to Friday) for Kids Rs. 600 per head.
In Weekends or any event: For Adult Rs. 800 and Kids Rs. 600 per head.
Entry Timing–
10 am-6 pm in evening time.
Official website: www.anandiwaterpark.co.in
Share this article on social sites. Take care. Goodbye.